1.What is semantic segmentation¶
Source: https://divamgupta.com/image-segmentation/2019/06/06/deep-learning-semantic-segmentation-keras.html
Semantic image segmentation is the task of classifying each pixel in an image from a predefined set of classes. In the following example, different entities are classified.

In the above example, the pixels belonging to the bed are classified in the class "bed", the pixels corresponding to the walls are labeled as "wall", etc.
In particular, our goal is to take an image of size W x H x 3 and generate a W x H matrix containing the predicted class ID's corresponding to all the pixels.

Usually, in an image with various entities, we want to know which pixel belongs to which entity, For example in an outdoor image, we can segment the sky, ground, trees, people, etc.
Semantic segmentation is different from object detection as it does not predict any bounding boxes around the objects. We do not distinguish between different instances of the same object. For example, there could be multiple cars in the scene and all of them would have the same label.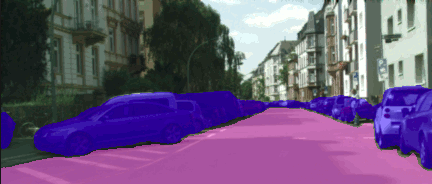 In order to perform semantic segmentation, a higher level understanding of the image is required. The algorithm should figure out the objects present and also the pixels which correspond to the object. Semantic segmentation is one of the essential tasks for complete scene understanding.
Dataset¶
The first step in training our segmentation model is to prepare the dataset. We would need the input RGB images and the corresponding segmentation images. If you want to make your own dataset, a tool like labelme or GIMP can be used to manually generate the ground truth segmentation masks.
Assign each class a unique ID. In the segmentation images, the pixel value should denote the class ID of the corresponding pixel. This is a common format used by most of the datasets and keras_segmentation. For the segmentation maps, do not use the jpg format as jpg is lossy and the pixel values might change. Use bmp or png format instead. And of course, the size of the input image and the segmentation image should be the same.
In the following example, pixel (0,0) is labeled as class 2, pixel (3,4) is labeled as class 1 and rest of the pixels are labeled as class 0.